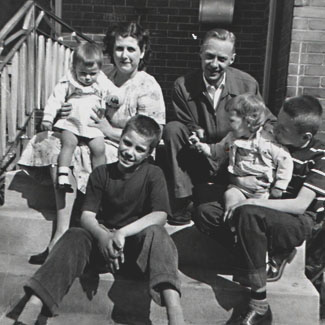 Yvonne Bosman-Jonker
A Patient's Story:

Yvonne Bosman-Jonker was born at the original Holland City Hospital on April 27, 1921. She was the great-granddaughter of Jan Willem Bosman who was one of Holland's earliest settlers.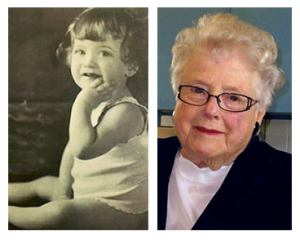 She married Peter Jonker III and together they had children, Peter, Nathan, Libby and Lu-Anne. The boys were born at Holland Hospital's current location in 1942 and 1945. Her eldest, Peter, was labored in the hospital hallway because all of the rooms were occupied. They wrapped a curtain around her for privacy. Yvonne's daughter, Lu-Anne (Lu), also recalled the days when original HH doctors, Dr. John Winter and Dr. William Winter, would provide at-home care to her family when someone was sick.
The Jonker's eventually had to relocate and Yvonne's twin daughters
were born in Alpena, Michigan. Lu Jonker moved back to Holland and has been an employee at Holland Hospital for over 30 years.
For her 75th birthday, Yvonne's children hosted her at The Centennial Inn Bed & Breakfast which is the site of the original hospital. Lu also gave her mother one last tour of the 1927 building before they knocked it down in 2006 to build the hospital's new facility.
Lu started her nursing career as a nighttime RN on 4 West, eventually moving to a schedule that included working a week of days, a week of evenings and a week of nights. Lu has worn many hats as a hospital employee, as she transitioned from staff nurse to Clinical Educator to Clinical Manager for Medical/Surgical Services. She has seen plenty of change in health care over the years. What stands out to her most is the acuity of care and the change in product lines, services offered and treatment options.